As I ascended the brow of the hill from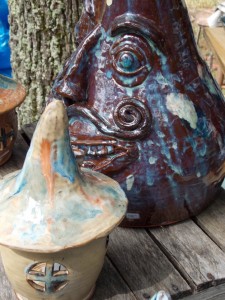 the hayfield parking lot, I suspected I was in for a weird walk in the woods. I soon realized it would be wonderful, too. The winding gravel path was lined with white canopies shading artisans, perched for as far as I could see. The Berea Craft Festival made good on its promise of offering the Midwest's best artists, craftsman and entertainment.
A history of delivering unique one-of-a-kind art that's made in the shade
The Berea Craft Festival has a name that betrays the depth of the event. It certainly has an element of crafts, and it is festive, but it offers much more artistic depth than events of this ilk. It has been at the heart of Kentucky's art community for more than 30 years because of the caliber of the artists and its unorthodox location in the middle of the woods in Central Kentucky. The festival celebrates its 32nd year on July 12-14.
Now she's basket crazy
The first booth I visited, Jasper Basket Works, set the tone for me. Owner and basket weaver Vicki Keaton answered what I thought was a simple question, "How did you get into basket weaving?" The next five minutes contained her incredible history of unexpectedly losing her job as a nurse and sinking into a state of uncontrollable depression. When hope was all but lost for her in the institution she checked herself into she was told by the staff that she must at least try basket weaving as a therapy if she ever hoped to leave the facility. It changed her life and slowly brought her out of her years of complete hopelessness.
"You've heard of crazy people weaving baskets? You're looking at one," Keaton says with a hearty laugh. She spent years teaching herself how to perfect her craft. She visited Longaberger Basket Company to get the inside scoop from some of the country's top basket weavers. Her story reminded me of the passion we all need to be great at what we do. Her baskets are as extraordinary as her story.
The variety of crafts and the deep passion for art is evident throughout the show as you engage in conversation with the craftsmen surrounded by their handiwork. There are excellent examples of glass, ceramics/pottery, textiles, metal craft, furniture, paper goods, jewelry, photography, mixed media and paintings. All are one-of-a-kind originals. Most are some of the finest examples in their respected genre.
Caroline Zama from Star Bird Pottery had a whimsical collection of ceramic pots, plates, boxes and birdhouse that brought a smile with each design. "Life is too serious, so I make my work fun. I make my pottery the way my life is: wonky. I don't like symmetry."  Zama declared with a wryly. Her pottery takes you away to a land of talking teapots and Cheshire cats.
Demonstrators that draw a crowd
There are live demonstrations of silversmith metal work, pottery being turned on a wheel, tree-to-table basket making, wood carving, vegetable dying, painting and more. There is also a nice assortment of regional musicians playing acoustic music all day. The food stands offer an assortment of homemade vittles as you stroll through the more than 125 exhibitors nestled among the trees, all offering a chance to find the piece of original art that speaks to your unique taste.
The Berea Craft Festival is one of the area's most eclectic gatherings of artists who invest themselves in their work.  It lives up to its quirky promise to tickle the muse and arouse the spirits of the trees and the wind.

The 32nd annual Berea Craft Festival will be held July 12-14 at Historic Indian Fort Theater, near Berea, Ky. For further detail, call Berea Welcome Center at (800) 598-5263 or visit www.bereacraftfestival.com