After we had returned from Ireland, we found wisps of memories: The stomach-clenching view from the edge of the Cliffs of Moher, Atlantic waves smashing into the rock face below. The warmth of a pub, table set with a hot bowl of seafood stew and a cold glass of Guinness, music twanging and feet thumping from a tiny stage. In the mornings—and some days, on and off for hours—we greeted our explorations in rain jackets, caps and sweaters to fend off the dampness and mist outside.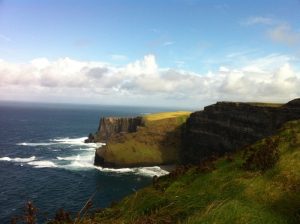 Yet other days, the sky filled with rich blue, sunshine and rainbows. We retained a shrouded, foggy recollection of our Irish experiences. Who can say whether our memories were clouded by weather, whiskey or the magic of that island? From these misty moments, we collected our cle
arest thoughts, bits that we could hold at a distance of a few months time. Ireland gave us these rich memories, with dialogue in soft brogue, rolling hills and old stone, woolen socks and beautiful landscapes.
 Chasing rainbows in the West of Ireland
It seemed too magical: To arrive sleep-deprived, plane-stale, and suddenly be driving down winding roads with rainbows at every curve. But they lingered for hours. It would rain occasionally, and the skies would clear enough to let some sun shine through. Again, another rainbow.
The morning we arrived in Ireland, we set off for the multi-hour drive from the Shannon airport to our destination: Clifden, a small town on the western coast. Every few minutes, it seemed, we'd turn around a bend in the road or crest a hill to find a rainbow.
I snapped photos from inside the car, most of them polluted by road signs and poor camera angles. We spotted a double rainbow that we couldn't quite catch in a digital image. I couldn't help but think of these natural light phenomena as a friendly greeting as we arrived for a vacation in Ireland.
It was a tease, or perhaps some Irish humor at the start of the trip. I didn't see one again for the remainder of the week.
—Suzanne Clark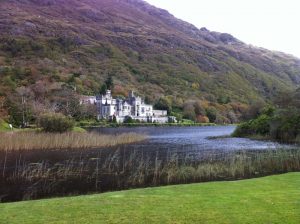 The language of tradition
I went to Ireland with my Irish Catholic mother, having promised her that we would make the trip together. It was her first time outside the United States, which meant I was our chauffeur and tour guide. This included navigating rotary intersections (roundabouts) and winding cliff-side roads as my mom tried to avert panic from the passenger seat. It also meant I regularly responded to questions such as, "Do you think they take American dollars here?" and "Well, why don't they do it our way? Our way is better."
But there was one place where her understanding of Ireland and Irish people was deeper than anything I, as our guide, knew: the church. Raised by Irish parents and in Catholic schools, my mom knew exactly what to do when she walked into that first Irish church at the end of our street in Clifden. She went directly to the prayer candles and lit one "for Grandpa," meaning her father and my grandfather, who had always wanted to visit Ireland. She knew to make the mandatory donation and to kneel before the Virgin Mary in prayer. She even knew the appropriate prayer to say, in Latin.
In this land, where religion played a major part in everyday life as well as politics, war and history, she found a piece of her own past. For as far away from home as my mom must have felt on that first journey abroad, she could speak the language of the church, uniting herself with her ancestry and traditions hundreds of years old.
—Katie Scarlett Brandt
Sheep aplenty
"Will you take our picture on the sheep?" A girl in a bright pink jacket ran across the lawn to ask me. Another girl, maybe 2 years old and whom I assume was the little sister, struggled to keep up. We were in the garden of a castle called Kylemore Abbey, which an English tycoon had built in the 1860s as a token of love for his wife and later changed hands to a group of Benedictine nuns. "Please?" the girl said.
I agreed, and the girls raced onto a pair of sheep statues. After I snapped the photo, the older one asked to see it, exclaiming, "Look at Fern! Isn't she so cute?" She was. And so were the sheep.
This was not the first
time I had snapped photos of sheep, though my previous shots had been of the live variety. Outside Galway on the drive in, I was distracted by the mass of fluffy white coats stretching across the green landscape. I almost missed the one directly in front of my car and only narrowly avoided running her over. The sheep seemed so coolly unimpressed by everything; they're not visibly afraid of cars or people. They meandered along the lakes, down the roadside, and in the middle of the road. They were everywhere—some spray painted with streaks of blue, red, or yellow to denote ownership.
I couldn't get enough of this creature so entrenched in Irish culture. There are actually far more sheep (8 million) than people (4.7 million) in the country. And because I couldn't actually (legally) bring one home with me, I now own enough pairs of wool socks that I could wear a new pair everyday. For a week.
—KSB
 The view from the top of Connemara
From the highest point of Connemara National Park, the wind was brutal. I had layered on a sweater, two jackets and a hat, and still felt battered. But after a one-and-a-half-hour hike upwards. I looked down at my sneakers, and the stones under my feet, then out across the sweep of landscape below me. I conquered this Irish hill. I felt triumphant.
One of only six national parks in Ireland, Connemara has a simple trail system that takes hikers up to a massive hill, rockier at the top but with stunning views. As you climb, you see more and more of the surrounding countryside, the edge of land and the beginning of the Irish Sea.
For a few minutes, my companions and I rested at the top before beginning our journey downward. One of us, a devotee of yoga, stretched into a side-plank on a pile of stones. But we could see the clouds rolling ever closer as we began our journey downward. We were rain-soaked when we reached the park building at the bottom, and the car smelled of wet wool on our drive back to Clifden.
—SC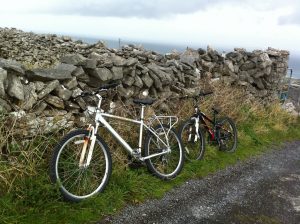 Riding bikes on the Aran Islands
The brakes on my bicycle were squishy, while the seat was hard. But the gently rolling roads ofInishmore, the largest of the Aran Islands, were perfect for refreshing my cycling skills. A 45-minute ferry ride across Galway Bay delivered us to the island, and I convinced my husband that biking, rather than carriage ride or tour bus, was the best way to see the island.
The beach road, which curved along the edge of the island, provided views of crashing waves, rough shores and livestock scattered among tiny plots of land divided by old stonewalls. Goats climbed freely, munching weeds sprouting between stones; cows, horses and sheep passively remained within their boundaries. These sights would have been a blur in a tour bus, but we could stop at leisure to laugh at the goats or snack on apples. Letting myself glide down a hill, I couldn't deny the giddy feeling I had, with the salt-tinged breeze blowing, the views of old cottages and rugged landscapes softening with my speed.
After a few miles of pedaling, we parked our vehicles in a sea of other rental bicycles at the base of a hill and climbed on foot to the top of Dun Aengus, the remains of a prehistoric fortress perched on a cliff. I sat on the edge of an old rock foundation, legs dangling into nothingness, and watched the waves crashing below me. For a moment, I thought about what it might feel like to be one of those waves, slamming into the rock face that stretched from my legs to the water. Then I stood back up, descended the hill and climbed on top the hard bicycle seat for the return trip to the ferry.
—SC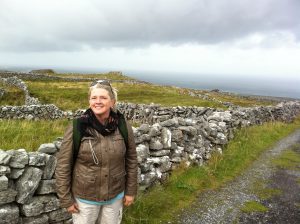 Irish Stonewalls and souvenirs
Having purchased enough wool socks to risk being charged as an importer by U.S. customs, I decided to bring back a different sort of souvenir: a rock from one of Ireland's stonewalls. The walls serve as a backdrop throughout Ireland and as home to the animals and plants that settle in them—small birds, mammals and mosses. No matter how round or jagged, each stone contributes to the overall personality of its wall, bringing the entire structure to life.
Ireland boasts a quarter-million miles of these dry, handmade walls, most built after the Great Famine of the 1840s. On the island of Inishmore alone (winter population 900), 10,000 miles of walls divide the rocky terrain into square plots. Within those plots, people in centuries past created their own dirt for crops by using seaweed as a base. I spent my time on the island searching for just the right stone to carry home with me. I hunted in cemeteries, on roadsides and beaches. Finally, I found the perfect one, six inches across, on a wall surrounding a home in Inishmore's main town, Kilronan. My mom photographed me using it to write a message in the sand to my boyfriend back home, and now it sits on our bookshelf, a piece of Ireland as unassuming and uniquely Irish as the wall from which it came.
—KSB
A walk among the drying peat
After an hour's drive down a one-lane road that snaked around mountains and loughs, black bricks began dotting the rolling landscape: Peat, drying under overcast skies. Their mere presence felt eerie. Connemara is desolate enough that while driving its country roads, you see few houses and fewer people. The region's isolation leads you to believe in the chance that no one has been in this exact spot before. These piles of peat prove that someone has. Someone dug this peat out of the bogland. And they will return to collect it.
Peat bogs makes up three percent of the earth's land area, and under the right conditions, eventually turns to coal. In Ireland, which holds about 10 percent of Europe's peatland, it's used for fuel and to distill whisky. Walking down Clifden's streets at dusk, I smelled the smoky-earth scent of peat burning every night. It signaled people settling in for the evening, chasing the chill from their homes with fires made from the hardened briquettes.
Now, as I pulled the car over and walked toward the drying peat, my feet sank into the ground with each step. For the first time in my life, I risked being literally "bogged down" in the damp earth below me. The peat was heavy, wet, and left dirt and grass between my fingers. As I turned a brick over in my hand, I wondered if one of the farmers would appear to chide me. Yet for as far as I could see in any direction, the only other living creatures in this remote landscape framed by mountains were the sheep.
—KSB
Whiskey tasting at the Jameson distillery
All my days in Ireland ended in a pub, a habit apparently true for more than just tourists. We would gather around a small wooden table or as close to a hearth as possible, chat with locals, and break down our days. Where we had gone and what we had seen changed daily, but one constant remained: glasses of whiskey on the table. Always three or four of them, always with a single ice cube at their centers, and always a promise of a smooth end to an intrepid day.
After a week of drinking whiskey, splitting my time between Jameson and Powers in countryside pubs, I took a trip to the Jameson Distillery in Dublin. Businessman John Jameson founded the distillery in 1780, under the motto "sine metu," which means "without fear" and appears on every bottle. Today, the company sells more than 30 million bottles a year.
I was chosen with a handful of other people from my tour group to serve as "official whiskey taster." It's difficult to explain the sense of pride that overtook me, but as I sat down to my blind taste test, setting Jameson against Scotland's Johnnie Walker and America's Jack Daniels, my experiences of the past week flooded my thoughts. I took my time finishing the tiny shot glasses, casting my vote unknowingly for Jameson, and soaking in the sights of the distillery.
I wasn't certain I'd ever be back again, or that whiskey would ever taste as it did in those pubs with their low ceilings and tiny tables. Even as I write this, I want to pour myself a glass, sit back, and imagine I'm back at the distillery—or at any one of the pubs in which I spent my nights in Ireland—warmed from the misty cold by drink, fire and fiddle.
—KSB
 Irish coffee, poetry and rain
On our last full day in Clifden, I perched atop a bar stool, sipping an Irish coffee, and one of my companions carried over a Guinness. A shamrock etched in the foam atop the dark brew showed the work of a bartender with a quick hand. We admired the alcohol-based artwork and watched as rain dripped outside the windows of the Alcock and Brown Hotel. The afternoon's entertainment was about to begin, and this felt like the quintessential way to celebrate being a writer in Ireland.
For the next hour, I sat rapt as poets read their work. Even the names of the poets there had a poetic English-Irish ring: James Harpur and Gerard Smyth, Mary O'Malley and Eugene O'Connell. The event was a hundredth birthday memorial for poet Czeslaw Milosz, as well as the launch of theCork Literary Review. It was one of the final acts of the Clifden Arts Week, an annual celebration of painting, music, literature and other creative arts. Toward the end of the session, a man played a short interlude on fiddle, another treat before leaving the warmth of the bar to walk to our temporary home.
Afterward, I looked up poems by Czeslaw Milosz, and these words lingered with me, from his poem "Ars Poetica."
 The purpose of poetry is to remind us
how difficult it is to remain just one person,
for our house is open, there are no keys in the doors,
and invisible guests come in and out at will.
What I'm saying here is not, I agree, poetry,
as poems should be written rarely and reluctantly,
under unbearable duress and only with the hope
that good spirits, not evil ones, choose us for their instrument.
—SC