One family pays it forward and enjoys the nourishment of others.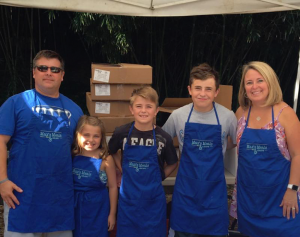 Everyone has heard the saying that each person is as unique as a snowflake. For Kristi and Matt Meyer of Max's Meals & More, every cake they deliver to Cincinnati Children's Hospital Medical Center (CCHMC) must be as unique as the child requesting it. Their non-profit organization partners with local Busken's Bakery to create custom cakes for inpatient children at the hospital's Cancer & Blood Diseases Institute (CBDI) for birthdays or any special occasion such as last day of chemo or transplant day. It's a small gesture that lights up the lives of these children and their families in the biggest of ways.
Established in 2009, Max's Meals & More (MMM) was founded in honor of Kristi and Matt's son, Max. The organization strives to support families who spend all of their time, from days through nights, over weekends and holidays, for weeks, sometimes months, at CCHMC in the CBDI as their child undergoes treatment. The Meyers and their family know this experience all too well because Max received a lifesaving bone marrow transplant at the age of seven as part of his treatment for Aplastic Anemia, a rare bone marrow failure disorder. When Max was discharged from the hospital after eight long weeks, the Meyers wanted to help families they had come to know during their time in the hospital who were still there supporting their children, as well as families yet to undergo such a difficult circumstance. As Cincinnati natives, the Meyers were lucky to be surrounded by family and friends during this challenging process, but many families had travelled long distances, even overseas, so that their children could be treated at CCHMC/CBDI. Kristi began brainstorming ways in which they could support these families, and so Max's Meals & More was born.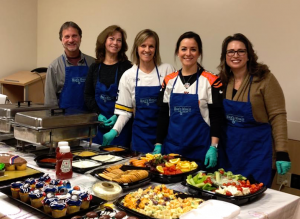 As evidenced by the name, MMM serves monthly meals, free of charge, to all CBDI families, including on major holidays, and hosts special events such as Spa Day and Super Bowl Sunday. Along with providing custom cakes to the children, MMM immediately answers personal requests of families and staff, whether it is a need for comfort items, special food requests, toys, personal care products or clothing, and holiday-specific or support activity supplies. To date, every request has been fulfilled. Remembering how it felt to finally leave the hospital, home at last but away from the watchful eyes of skilled doctors and nurses, Kristi also created take-home bags to give to discharged families to help them confidently care for their children. These "Helping Hands" bags include a flashlight for checking on their child at night, a thermometer, hand sanitizer, and much more.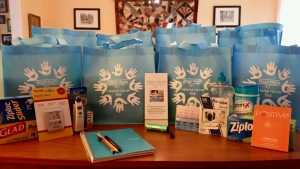 Their biggest event of the year, Kick Up Your Heels for Max's Meals, will take place April 6th. Families from around Cincinnati will gather to dance, eat, play games, and raise money for an organization that has positively touched so many lives. Among them, Max, now sixteen, will laugh and chat with his friends like any other high school boy his age. All proceeds go directly to serve CBDI children and their families with meals, comfort items, and support activities with the hope that other children can overcome their diagnoses and start on the road to recovery. The evening will be filled with love, friendship, and laughter, and thanks to the Meyer family and Max's Meals & More, it will continue to touch the lives of many even after the music fades.
For more information on Max's Meals, or if you are interested in volunteering or attending the fundraiser, please visit http://www.maxsmeals.org/.